MSDS Sheets for Martial Arts Training
There's something to be said for being prepared. If you're anything like me, you like to have insider knowledge of the products that you're purchasing. You want to know the chemical makeup, how to use them appropriately, and what emergency procedures to follow. If you own your own martial arts training studio, no doubt you know how to plan for emergencies and limit risk factors.
But have you ever considered the chemical makeup of the mats that you're purchasing? Have you ever wondered what goes into the products that you're buying? That's where MSDS sheets come in handy, as they provide you with all the information that you need to know about the products that you're purchasing.
In this article, we will discuss:
What MSDS sheets are.
How to use them in purchasing martial arts training mats.
Links to MSDS sheets for specific types of foam mats, including:

Judo mats
EVA foam mats
XPE mats
What are MSDS sheets?
MSDS (Material Safety Data Sheets) sheets are product identifiers created by the supplier or the manufacturer would shed light on hazards, chemicals, work practices, preventative measures, and disposal practices for certain materials. MSDS sheets are a major component of Workplace Hazardous Materials Information System (WHMIS), a system first introduced in 1988 and updated in 2015 which seeks to address how to properly handle hazardous chemicals. You may see MSDS's referred to as SDS (Safety Data Sheets) is in the recent update of WHMIS.
Why are MSDS sheets important in martial arts training?
As mentioned above, when you own a martial arts studio, you want to know that all the products that you're purchasing are going to help prevent injuries to your students. To do that, you need to know exactly what materials went into making the product, even learning more about the chemical makeup.
It's no different when you are shopping for new punching bags, sparring gear, or squat racks. You want to do your research and make sure that you have the best product available. In that same way, looking through the MSDS sheets for martial arts training equipment can help you know a bit more about the mats that you're buying.
Here at British Martial Arts Mats, we pursue full transparency with those that purchase mats. We do that by sharing the specifications of the products, like density ratings, but we also list the MSDS sheets for the products that we have. This can help you gain a better understanding of how to work with the mats that we have, especially if you're creating a bespoke mat layout for your gym and you're altering and cutting the mats to fit. By describing each mat, this will help gain confidence for you and your employees as you use the mats in every day martial arts training.
MSDS sheets for Martial Arts Mats
Judo Mats
Judo mats are made from reconstituted polyurethane foam, and open cell foam, which does wonders to prevent injuries from falls. Polyurethane foam is ubiquitous in several industries, including automotive, homebuilding, and training facilities. The reason it's found throughout several industries is that it has cushioning ability mixed with thermal insulating properties.
This reconstituted polyurethane foam is wrapped in a nonslip vinyl outer coating, which is heat welded to a high traction base. This prevents the vinyl from tearing away from the base, and creates a long-lasting, durable mat which you can use for decades.
Judo mats are a popular item on British Martial Arts Mats and this may be because of the excellent tatami top surface layer. Mimicking woven Japanese style mats, the tatami surface layer prevents slips and trips, whilst also preventing mat burn.
Judo mats come in a wide variety of different colours, and in two different sizes:
Here you can find a link to two separate MSDS sheets for the foam and vinyl outer-coating:
Ethylene vinyl acetate- EVA foam
EVA mats are made from ethylene vinyl acetate foam, a closed-celled foam which has a rubberlike flexibility, making it extremely durable. Closed cell foams feature pockets of gases which are trapped inside the foam, and this provides extra cushioning from falls, trips, and slips. The surface texture of these mats is high traction, allowing athletes to easily grip the mat to make lightning quick movements.
EVA foam mats are ubiquitous in the martial arts and fitness training communities. The reason for that is that they are both practical and easy to clean. EVA foam provides excellent cushioning ability for athletes to fall on it and is also easy to cut and fit into any bespoke mat pattern.
In addition, EVA foam is incredibly easy to clean and disinfect. EVA mats are nonporous, so they don't soak in harmful bacteria from water, sweat, and grime. EVA foam mats are also great to use as entryways, outdoor walkways, and even in workshops.
It should be noted that some EVA mats are made with an industrial chemical called formamide. Formamide causes the mats to off gas an acrid smelling odour. Studies have found that formamide is not toxic in the amount that is found inside of EVA foam mats.
EVA foam mats are available in several different thicknesses, and they are the most popular mat on the market today. Lightweight, and easy to set up, EVA foam mats are great to use and work with in a martial arts and fitness setting. Below you, you can find links to a few different EVA foam mats available at British Martial Arts Mats:
Click the link below to find an MSDS sheet for EVA foam:
XPE foam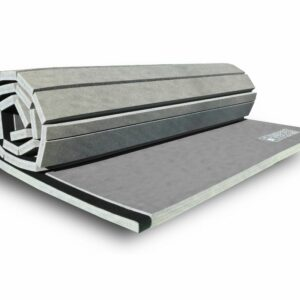 XPE foam is a cross-linked polyethylene foam which is great to use for fitness and martial arts training, specifically because it is incredibly durable and has high shock absorption properties. In fact, some XPE mats are rated to prevent injuries from falls over 1.5 m in height. The reason for XPE foam's superior impact absorption lies in the manufacturing process, wherein polyurethane foam is cross-linked together in a chemically unique process. These polyurethane particles are knit together in a netlike structure. Once the mats are fully cured, the walls of the mats have an embedded cellular structure, making them incredibly durable.
XPE foam can be found in not only the athletic industry but also in the automotive industry, and in homebuilding, as XPE foam works great as an insulator and protector of goods that are shipped.
Check out the most popular XPE mats we have available at British Martial Arts Mats:
Below, you can find an MSDS sheet for XPE foam:
Expanded polyethylene (EPE) mats
Expanded polyethylene mats are made from expanded pellets, which are created through a blowing agent and placed into a mould to cure. First produced in the 1970s, EPA foam was manufactured to replace polystyrene as well as some other types of polyurethane foam. You may notice that EPE foam is a semirigid foam which is waterproof and easy to clean.
EPE foam is found in products that need a bit more cushioning. For example, you may have EPE inside your mattress topper, and this is because this type of foam is incredibly good at cushioning. Since it's an open cell foam, EPE "breathes", expelling gas when someone puts pressure on the mat. The most common form of EPE foam mats in martial arts training are crash mats, thicker mats which have incredible cushioning ability.
Below, you can find an MSDS sheet for EPE foam:
Conclusion
There are many different types of mats that you can purchase for your martial arts training centre, so it's important to discover which mats are best to use for your training requirements. For example, EPE foam crash mats may be great to use as a supplementary type of mat, but should not be used for daily use, as they are too squishy for athletes to gain proper footing. In addition, XPE foam mats are a great overall type of mat to place under the feet of athletes, as they possess just enough hardness to give athletes the ability to move around on them easily, but also have excellent cushioning ability to prevent injuries.
If you're ever interested to learn a bit more about the types of mats to purchase for your home gym, training centre, or even workshop, give us a ring or reach out to us through the chat button in the bottom right-hand corner of your screen. We have wonderful customer service people who can help point you in the right direction on what type of mat to purchase for your needs.
Author: David Van Kooten