3 Tips for Purchasing Rubber Gym Mats
Rubber gym mats are a versatile and heavy-duty athletic flooring option, able to take the rigours of regular use and abuse. But there are so many rubber mats available on the market that you may find it difficult to pick out the one that will fit your own specific needs. In this article, we're going to look at all the benefits of purchasing rubber mats, as well as some tips and tricks to help you find the perfect one for your needs.
Below, you can find the main points that we're going to highlight, including:
The benefits of rubber mats
The difference between vulcanised and non-vulcanised rubber gym mats
The different types of rubber mats available
3 tips for purchasing rubber gym mats
The benefits of rubber mats
If you spent any time inside of a weight training centre, you'll realize that rubber mats are one of the most important pieces of equipment inside the gym. The reason rubber mats are so popular is that they offer amazing value for their price. Let's examine some benefits of rubber mats:
Absorbs impacts
What they effectively do is help to absorb the shock and impact from heavy weights, dissipating out the kinetic force. This entire process protects the subfloors underneath, whilst also helping to minimize strain on the joints and ligaments of your athletes.
Offers great traction
Rubber is also an excellent material to use in a gym because it has nonslip properties. Even in cold and wet conditions, rubber mats hold up great and provide traction. Made from natural materials, rubber mats are even waterproof, allowing them to be used outdoors. Not only do rubber mats offer traction on the top surface, but the bottom of the mats create friction with the subfloor and prevent movement.
Insulates from the cold
In addition, rubber mats offer great insulation from cold temperatures. Not only are rubber mats used in weight training centres, but many farmers use rubber mats to insulate horse stables from the cold winter temperatures.
The difference between vulcanised and non-vulcanised rubber gym mats
If already know a thing or two about rubber mats, no doubt you've heard about the difference between vulcanised and non-vulcanised rubber mats. Virgin rubber, the type of rubber that comes straight out of the manufacturing process, can also be considered non-vulcanised rubber. It's durable and has great elasticity, but it lacks the strength of vulcanised rubber.
In order to create vulcanised rubber, the rubber is heated to between 140 to 160°C. Then sulfur and a chemical accelerator are added to the super-heated mixture. After this chemical process, the rubber molecules are cross-linked, creating strong bonds between the molecules, which helps to improve tensile strength, elasticity, and hardness. Effectively, vulcanization creates a much more durable, longer-lasting mat.
The mats at British Martial Arts Mats are made from high quality vulcanized rubber, which can hold up to harsh temperatures and cold weather, whilst also being great to use in your gym. These mats are non slip, and offer substantial shock absorbing properties.
Different types of rubber gym mats
There are many styles of rubber gym mats available to you, including interlocking mats that use jigsaw connector pieces. Picking rubber gym mats that fit for you depends entirely on the needs of your gym. Let's examine the two most popular types of rubber gym mats available at British Martial Arts Mats:
Flat slab mats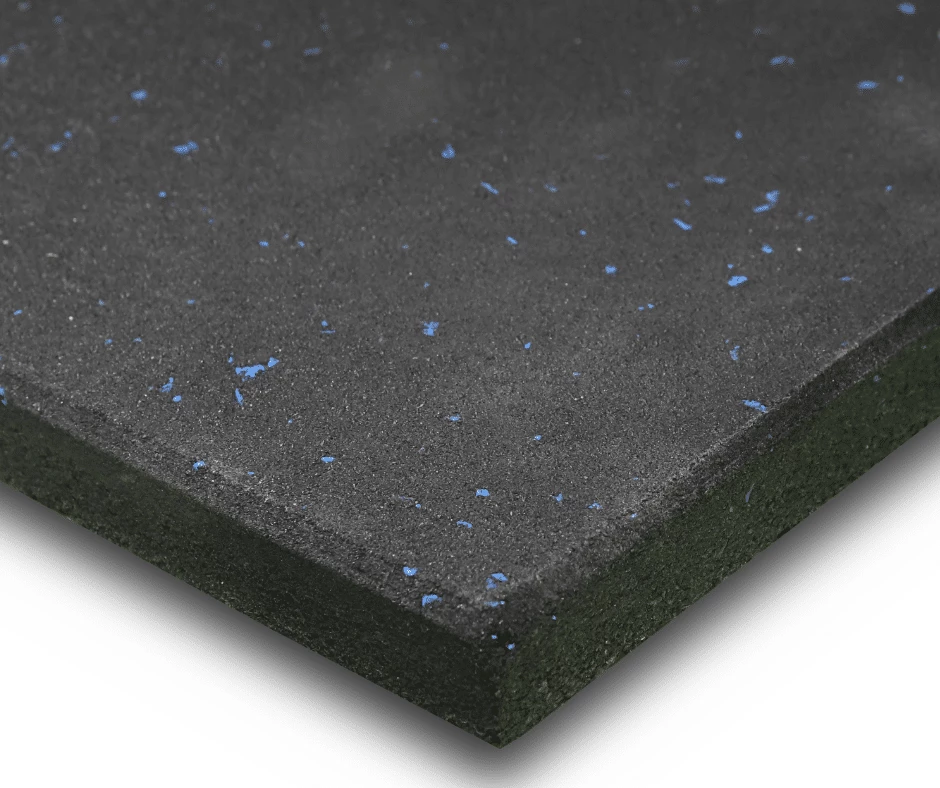 Flat slab mats are one of the most common types of mats that you'll see. Rubber mats have a nonslip surface which grips to the subfloor, so you don't need to really worry about mats moving about. Most slab mats are large and offer the best size to fit a large space.
Below, you can find the most popular rubber mats available:
Jigsaw mats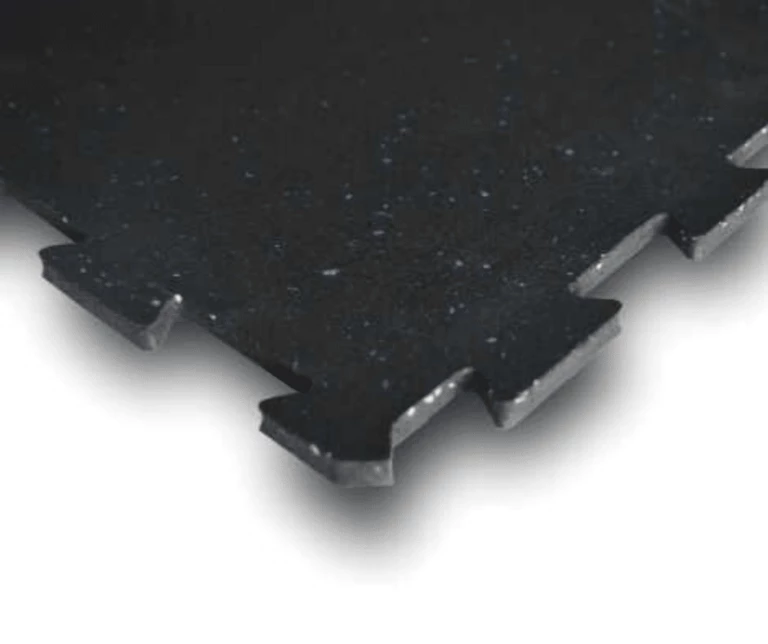 Jigsaw rubber mats are great to use as they are easy to deploy, and perfectly mobile to allow for on-the-go training. Featuring jigsaw connector pieces which interlock into one another, these rubber mats are almost impossible to separate whilst on the ground. They provide a great training surface for you to practice complex movements and heavy lifts.
Below, you can find a great jigsaw a rubber mat to use in your exercise room:
3 tips for purchasing rubber gym mats
Before you set about to purchase rubber gym mats, look at some of the expert tips below. It's always good to take a step back and examine any big purchase that you're making in order to make sure that you are purchasing exactly what you need. Follow the tips below and you'll be able to buy the right mats which fit your budget.
Know your budget
The first thing when purchasing rubber mats is to go in with an idea of how much you're willing to spend, and adjust it accordingly based on new information that you receive. For example, if you're looking to purchase 100 m² of gym mats, you're going to have to invest quite a bit of money in order to fully outfit your gym. Come up with a realistic expectation on how much you're willing to spend, and try to stick within that budget.
Examine the square metres
The next step is to figure out the total surface area that you need to cover. Even if you're not very good at maths, all it takes is a simple equation to be able to figure out exactly how much you need:
Take your measuring tape and measure the length and width of the area you need to cover and rubber mats. Multiply those together to get your total surface area.
Next, look up the type of mats that you'd like to purchase. Multiply the length and width of the mats in order to get the square metres of coverage. For example, a mat that is 1 m in length and 1 m in width will be 1 square metre.
Lastly, divide the total surface area that you need covered by the total square metres that each mat covers. This will give you a number of how many mats you need to buy.
Think through installation
Once you purchase the mats, the next step is to consider how you're going to install them. Below, you can find a list of tools that you'll need to have in order to properly install them:
A sharp utility knife
A straight edge or ruler
A measuring tape
A chalk line
Start by allowing the rubber mats to "season" outside. Rubber mats release an acrid smelling older like fresh tar, and you should allow them to sit outside in the sun for a little while in order to off gas that odour. After a couple days in direct sunlight, these mats are ready to install.
Next, start by laying the tiles out where you'd like them to go, starting on the left-hand side at the wall closest to a door. Then move towards the right-hand side of the room. Once you get to the wall, use a straightedge or ruler and a sharp utility knife to cut back excess materials in order to sit them nicely against the wall. Remember to leave at least 4 mm of space between the rubber mats in the wall, as rubber mats expand.
Conclusion
Rubber mats are a dependable athletic material which don't damage easily and have an easily affordable price tag. Whether you choose to purchase interlocking jigsaw mats or slab mats, you can expect to get high-quality materials at British Martial Arts Mats. Follow the tips above in order to find the perfect mats for your needs. If you have any questions about what mats to purchase, reach out to our wonderful customer service team who will answer any question you have.
Author: David Van Kooten