Tips to Pick out the Perfect Kids' Mat
You know how important it is to have a safe place for your children to play, explore, and crawl about. Most of the time, kids are durable, able to bounce back from falls and slips, but you'd still feel more comfortable if there was a soft, cushioning mat placed underneath their feet. We totally get it, and at British Martial Arts Mats, we offer several foam mats which can add a layer of protection for the most important things in your life: your children.
In this article, we are going to address some of the important considerations that you may have before purchasing kids mats, including safety concerns. We'll help you out as you begin baby proofing your home, creating a safe space for your little ones to get the most out of their floor play time.
Are foam mats safe for kids?
As you research foam mats, you may have come across articles mentioning that they produce, or off-gas, toxic fumes which may be harmful to children. Off-gassing is the slow airborne release of volatile organic compounds(VOCs), and some EVA foam mats have been known to off-gas a toxic chemical called formamide.
According to a report from the French research organisation ANSES, formamide is a dangerous VOC that can be harmful to children. The research found that formamide is only dangerous when inhaled, and formamide quickly dissipates into the air. The report found that toxicity decreases significantly after the mats are unpacked for at least a week, with minimal off-gassing occurring after a month.
 Worried about off-gassing? Let your foam mats air out.
No matter what type of foam mat you purchase, consider letting them off gas for at least a week before laying them down on the floor. This will give you peace of mind, knowing that the mats have sat, becoming acclimatised to your home. Try to put them in a room where kids do not normally frequent or put them outside to allow for greater off-gassing.
Put your mats outside for days in direct sunlight to allow the VOCs to off-gas in a open space. The quickest way to get rid of the VOCs is to allow the heat from the sun to expand the pours from the mat. Don't lay them flat on the ground because you're going to want airflow underneath the mats. Lay them against a fence or put either wood or rocks underneath of them to allow for airflow.
Non-toxic EVA foam mats
Because of these findings, many manufacturers have move towards creating EVA foam mats with non-toxic materials. The kids mats at British Martial Arts Mats are made from non-toxic materials, and are safe for kids to play on and use.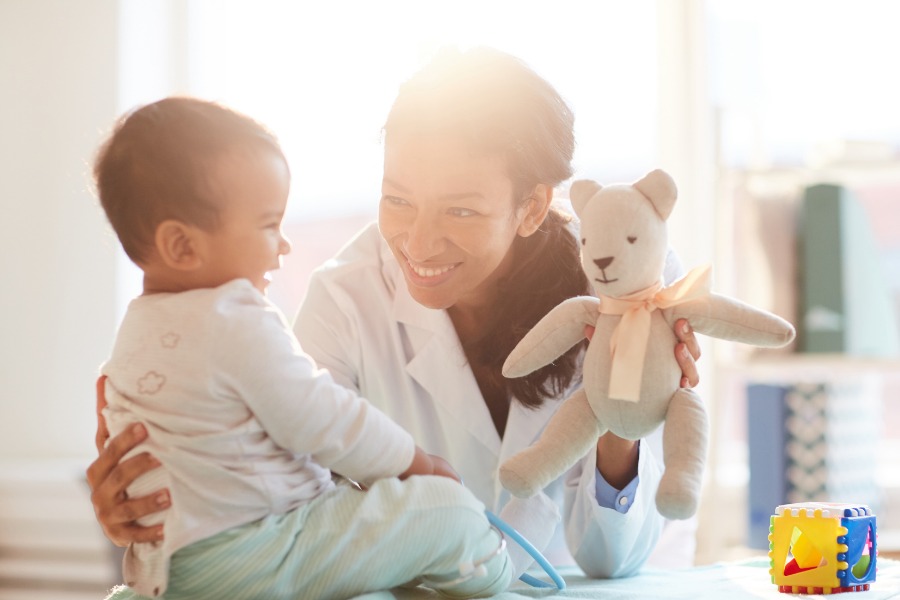 Other safety considerations
When you're purchasing foam tiles for your children, you want to know that they are going to last, that every time you use the play mats, they can offer the same level of impact absorption. Another consideration to take in mind is how well they will hold up after repeated uses. Anyone who has a little one in their home knows that they can always find a way to break something. You want to know that your play mats will not rip, tear, or fall apart. This is especially important for infants, as they will put anything into their mouth.
Foam vs. organic play mats
Many websites are promoting rugs made from organic materials, like wool, fabric, jute, or cotton. One thing that you'll notice about those materials is that they can be easily torn, which can lead to choking hazards for children. One of the major benefits of foam play mats is that they are incredibly hard to tear, even for adults. This is especially true for foam tiles that are wrapped in a vinyl outer coating, like the judo mat offered at British Martial Arts Mats.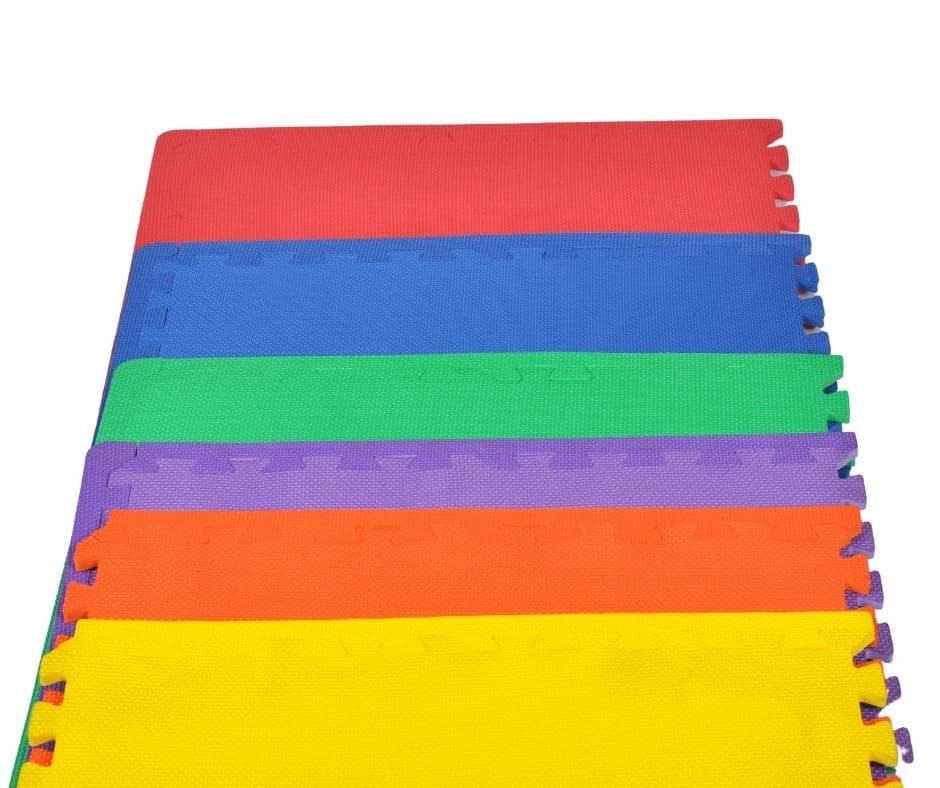 Why bright colours are important in your child's development
According to QA Teacher, a UK-based teacher resource, vibrant colours can aid in the cognitive development of infants and toddlers. Including the primary colours, like blue, red, and yellow, different combinations of colours can teach children how to think creatively by helping them differentiate between each unique colour. Not only that, patterns, whether on the floor or on a page,  help infants to develop creative thinking skills. More vibrant colours can stoke the creative impulse inside of your children.
In fact, kids learn a lot about how to keep track of their toys and to clean up after themselves by having a colour-coded flooring system. For example, you can cover one area of your nursery with play mats of a single colour, and this area can be used primarily for their toys. You could use another area for tummy time. Differentiating the areas on the play mats can be incredibly helpful for your little ones.
If you're interested in creating a colourful play area, the 10 mm EVA foam kids play mats is the perfect choice, as they are offered in six vibrant colours — red, blue, yellow, green, orange, and purple—each of which comes in the six piece set. With six different colours, there is a wide variety of different colour combinations that you can make to draw the attention of your children.
Other uses for a children's play mat
There are many uses for kids' play mats, so you'll easily be able to find a use for them once your kids grow out of the toddler phase. If you have a room in your house that is a dedicated playroom for older kids, play mats can be a great buffer between hard concrete floors and falling kids. As kids grow and develop, having a space where they can get their energy out and play without worrying about getting hurt or falling is great to have.
Also, foam play mats can be reused for other purposes other than just a play area for kids. You can easily make use of kids' floor mats for a garage, workshop, or basement, as foam tiles offer great insulating properties. They also make great anti-fatigue flooring, and this is helpful in any area where you are standing for long periods of time. As well, foam tiles are weatherproof and water resistant, which allows you to use the foam tiles outdoors. You could even use some of the foam tiles that you have for a dog run, adding a bit of padding underneath your pup's paws while they run.
What type of floor tiles should you choose?
There are many types of play mats you could use for your child's playroom, and we'll look at three different mats to help you narrow down your options: EVA foam kids mats, XPE foam mats, and Judo mats. Each provides different benefits and drawbacks. You'll likely gravitate towards one type of mat which fits your needs the best.
This is a great mat to use for a kids' playroom, as they are specifically designed for young children, and they have vibrant colours which offer stimulation to both infants and toddlers. Made using non-toxic, EVA foam, these mats are safe for children to use, as well as incredibly durable and easy to clean. EVA foam is a closed cell foam, so it is nonporous and waterproof.
As anyone who has a young child knows, kids can be pretty messy, and having waterproof flooring is certainly a requirement. Use a simple detergent to clean these play mats, like sugar soap, and you won't have any issues with the mats degrading.
The colour of these foam tiles won't fade, and they keep the same impact absorption from the first day that you use them until the day that you pull the floor up because you no longer need it.
Benefits
-Only 10 mm thick, so it fits underneath doors and won't impede a swinging door.
-6 Vibrant colours—red, blue, yellow, green, orange, and purple—which easily stand out and draw the attention of young children.
-Sold in packs of six, which equals a total area of 2.16 square metres
Drawbacks
-Although great for cushioning falls from toddlers and infants, these mats should not be used to cushion falls over critical heights of 1.5 m and should not be used for martial arts.
-Not reversible, which means you cannot flip the mats over for a different colour on the other side.
-They only come with two edging strips per mat.
Judo mats offer increased traction and impact absorption ability, when compared to 10 mm thick kids' play mats. They are a marvel of modern engineering, as they are made from high-impact absorption polyurethane foam, which is wrapped in a slip resistant vinyl outer coating. These mats are also great to use for play areas for larger children, as they are rated to absorb impacts of critical heights over 1.5 m.
These mats have a high grip, tatami surface which can prevent slips and trips. Even whilst wearing socks, you'll notice that you won't be able to slide as much on these mats as when compared to other surfaces. They're used primarily in martial arts training, where traction could be the difference between winning or losing a match.
In addition, these mats will not cause rashes or friction burns. They are primarily designed to add grip but not leave rashes. You can feel confident allowing your baby to crawl across them.
They come in two different sizes: 2m x 1m and 1m x 1m.There are also several colours that these mats are available in. So you can either mix and match or create a floor with a uniform colour. One other important thing to note, these judo mats have an anti-slip base which makes them great to put on a wooden floor or other hard surfaces.
 What is critical fall height?
Critical fall heights are determined by testing methods that evaluate the shock absorbing properties of the play mat surfacing material. This can be laboratory testing or testing in the "fall zone" in the actual play mat area.
Testers drop an instrumented metal "head-form" onto a sample of the playground surfacing material and record how fast it hits the material. A "head form" is a head-shaped device which has a built-in device for measuring acceleration. The test is repeated from varying heights. These heights determine the thickness of each system needed for protection.
One consideration about mats rated for critical fall protection
It's important to keep in mind, however, that mats rated for absorbing impacts from critical heights are usually overkill for a children's play mat. These mats are primarily used for martial arts training, and although they would be great in a playroom, you don't need the same impact absorption ability. For crawling babies, a thin 10 mm mat would work just as well. If you have older kids who take part in gymnastics, then these mats would work perfectly for at-home training.
Benefits
-Superior impact absorption from critical heights of over 1.5 m.
-Available in several colours.
-High-grip tatami surface which adds extra traction when playing.
Drawback
-Because of the thickness, these mats will not fit in doorways, as they will prevent doors from opening.
-More expensive than the 10 mm kids' play mats.
These mats are the signature line of mats at British Martial Arts Mats. These mats are made with XPE foam, a cross-linked polyethylene foam, a type of foam which offers superior impact absorption when compared to EVA foam. They're also waterproof and easy to clean. Also, you'll notice that XPE foam doesn't have an initial off-gassing phase like EVA foam. Right out of the package, you'll notice that XPE foam has no smell and has no initial slippery release agent.
These mats are the choice of professional athletes, and have been featured in martial arts competitions. They're great to use for a number of reasons, from mixed martial arts to play areas. You can even use these for anti-fatigue flooring in a workshop or garage. They're also easy to assemble, as they easily tessalate to into one another, creating a gap free surface.
Benefits
-Out of all the three mats listed above, these mats are probably the best value, offering the best impact absorption for the price.
-No initial smell.
Drawbacks
-At 30 mm thick, these mats may not fit underneath doorways and allow doors to swing open.
-Not rated for absorbing impacts over critical heights of 1.5m.
Conclusion
Safety is the primary concern when setting up a playroom in your home. By laying down kids' play mats, you can help to avoid injury from falls, slips, and trips. Even a thin mat, like the 10 mm kids' play mats, can add a level of protection, and provide you with the peace of mind, knowing that your children will be safe while playing. Creating a beautiful space should also be on your mind as you set up your nursery. Bright colours can stimulate the cognitive development of your baby. There are many types of mats that will serve your purposes at British Martial Arts Mats, so be sure to search through the website to find exactly what you need.